As a consignor:
1) Best to include a clause holding the consignee responsible for damage or loss should his/her insurance company fail to settle any claim within 45 days.
2) Make sure the consignor is additional insured and loss payee.
3) The Certificate of Insurance should be committed by the issuer and not simply informational.
4) READ THE ENTIRE POLICY or have your attorney do so. Know the exceptions which may, effectually, rob you of insurance should the work(s) be damaged or lost.
5) Know the insurance company you are dealing with as certain ones continuously seek reasons for nonpayment or endless delay.
6) Be sure, in the case of damage or loss, you notify your own insurance company, the consignee, and the consignee's insurance company on a timely basis.
7) Should coverage not be extended for any reason, be sure to read the fine print as to when legal action may be commenced. DON'T MISS THE DATE.
We are compiling both anecdotal and history of various insurance companies' responsiveness and willingness to live up to their responsibilities. Please forward any information of interest you may have to us at info@artassure.com.
Market Overview
While capital markets remain stressed, prices in the art market have advanced steadily. With growing global wealth and the emergence of new private and institutional buyers, demand for art should continue to increase. Since 1985, the AMR Art 100 index has provided an average annual return of 10 percent. In the same period the MSCI world has returned an average annual return of 5.9 percent. It is worth pointing out that the higher returns also come with lower volatility. While the AMR Art 100 has an annual volatility rate of 12 percent, the MSCI World Index had a volatility rate of 16 percent. But fine art as an asset class offers several further attractive characteristics, including generally low correlation with other assets, such as stocks, bonds and gold. This low correlation makes art an excellent tool for portfolio diversification. Additionally, given current concerns over high government indebtedness and loose monetary policy, art can provide inflation protection as a tangible real asset, and has shown it can perform better in an inflationary environment than equities. It is a private asset, generally quiet and is not interfered with by governments.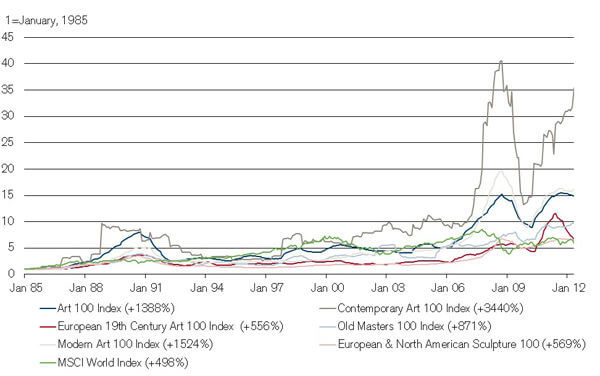 The average annual return of the Mei Moses All Art Index from 2007 to 2012 was 13.83%, with a standard deviation of 9.86
The average annual return of the DJIA from 2007 to 2012 was 1.03%, with a Standard Deviation of 17.3.

The average annual return of the S&P 500 from 2007 to 2012 was 4.68%, with a standard deviation of 22.15.


The average annual return of the NASDAQ Composite from 2007 to 2012 was 8.5%, with a standard deviation of 28.21%

The average annaul return on Gold from 2007 to 2012 was 17.94%, with a standard deviation of 12.5.
Art and Equities During the Financial Crisis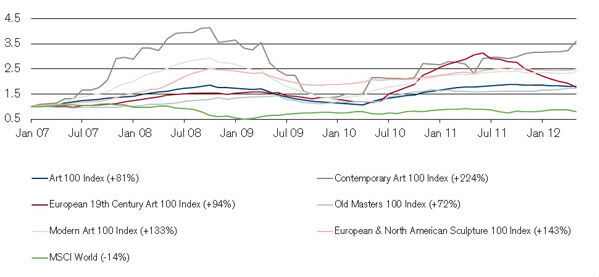 Demand for art will continue to rise as investment in museum-quality works prove to be more resistant to economic downturns than traditional investment products.
Mei Moses Art Index vs. S&P 500 Total Return and FTSE Since 1961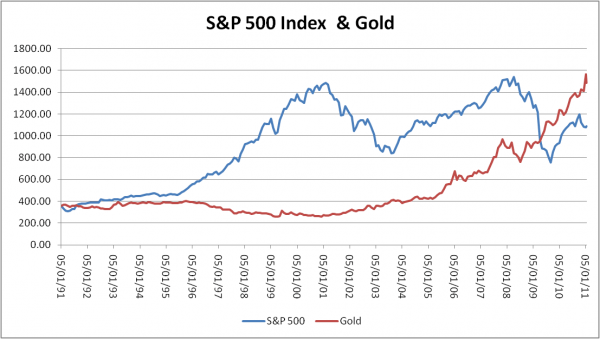 Real assets such as gold outperform financial assets in periods of economic downturn. Art has shown similar characteristics and performances.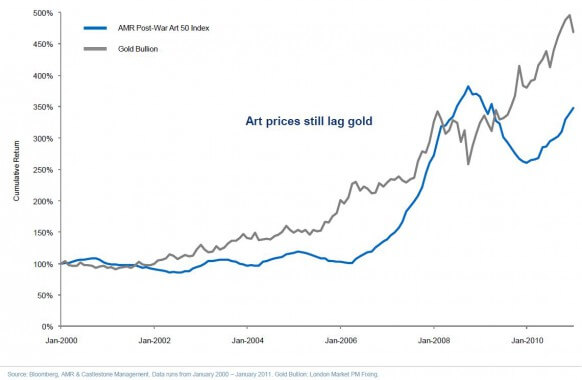 Art and fold, two real asset classes, are expected to out perform financial assets in the upcoming decade. However, art is unique in allowing investors to diversify their portfolio. With prices low and an upward trend strongly anticipated, it is an ideal tiem to begin to diversify.
Uncorrelated Returns Relative to Other Asset Classes
Allocation
Risk Return and Diversification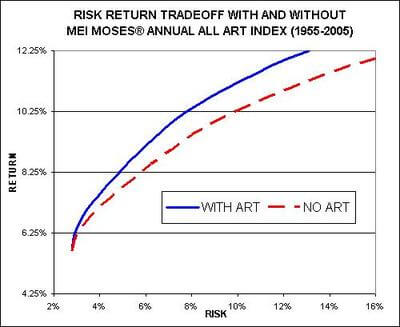 Art can improve the efficient frontier, the lowest possible level of risk for the highest possible level of return, of a diversified investment portfolio. Because art is not closely correlated to financial assets, diversifying with art has strengthened portfolios over the past decade.
Today's Art Market
The recent economic crisis caused the art bubble to burst in November 2008. While astronomical prices for art had been achieved during 2006 to 2008, the art market is currently stabilizing at 2004 to 2005 prices, which are approximately 30% lower than 2007 prices. This decline in the price of masterpieces has shifted the power from sellers to buyers.
Modern art is currently the heart of the global art market. It is the densest (10 times the Old Masters segment in terms of volume) and most profitable segment. 2011 was the best of the decade for the sale of modern works with particularly strong demand (more than 164,000 works sold, a record for the decade) and an outstanding revenue total of $6.067 billion, representing 52.4% of total global art auction revenue (all artistic periods combined). In 2011, the revenue from Modern art was up $1.218 billion versus 2010 which was itself a record year.
The number of contemporary works of art sold at auction has more than tripled over the decade. In 2011, more than 41,000 Contemporary works sold worldwide, a record number which generated a revenue total of over $1.26 billion compared with $87.7 million in 2001. Contemporary art certainly has the wind in its sails, but it has not become unaffordable since 62% of Contemporary works sold for less than $5,000 in 2011. However, prices are rising and the market's high-end accounts for an increasingly large share of the total Contemporary art market. In fact 2011 was marked by no fewer than 1,879 bids above $100,000, five hundred more than in 2010.

The positive performance and growth of the global art market in the last 10 years have coincided with a dramatic increase in the global High Net Worth Individual (HNWI) population, which was estimated to be 7.2 million in 2000 and has increased by 51% to 10.9 million in 2010. With art investment accounting for 22% of HNWIs' investments of passion, it is likely that the art market will continue to grow in line with the global population growth of HNWI. The price of art is expected to rise, taking into account the shortage of supply of relevant art and the future increase in buying power, resulting from the economic recovery. 

The growth of the art market and its infrastructure in the last 10 years is fueling an increasing interest in art as an asset class, which means we now can start talking about the early stages of an art finance industry, in which ArtAssure is a pioneer.
To further discuss our art-backed financial services please call 212-288-8858 or email info@artassure.com.
Credit Suisse's July 13th, 2012 research report finds that while capital markets remain stressed, prices in the art market remain strong. We at ArtAssure find many of the statistics and graphs presented in the report worthy of consideration. We leave it to you to draw your own conclusions about the current condition of the market. Please find the report here.